Your Choice of Coating Reflect the Future!
8-10 million tons of toxic waste result from roof tear-offs annually
Waste generated from roof tear-offs account 15-20% of total landfill
Over 90% of the roofs in the US are dark colored (150-200+ degrees)
A rise of sea level of 12" would flood real estate up to 1000' inland
10,000 years of global warming was compressed into the 100 years.
Environment
Federal Policies and Programs
Federal Laws that Support Green Building include:
The National Environmental Policy Act (NEPA), 1969
Clean Air Act, 1970, amended 1990
Resource Conservation and Recovery Act (RCRA), 1976, amended 1994
Energy Policy Act, 1992.
Global Warming 101
Global warming could do more than just melt polar ice. It could change our maps, and displace people from cities and tropical islands.
Taxes and Preventative Roof Maintenance
There are so many roofing materials, procedure and concepts offered today it is little wonder that contractors, building owners, architects, and anyone else involved in preparing roofing specifications find it hard to distinguish among the various systems. The problem is particularly difficult when it comes to fixing a leaky roof in that the spectrum of options is quite broad. You can try and get by with merely patching the leaks and hope for the best or go so far as to tear off the old roof and completely replace it with new insulation and roofing materials. Between these extremes there are many options including several preventative maintenance procedures designed to restore the roof to a watertight condition for an extended period of time.

Read More>>
Contact Us
Have one of our professional Flat Roof consultants help you with your Flat Roof Repair needs.
FFR-K1 Videos
View our Interview with Donald Trump Jr.
See how Final Flat Roof (FFR-K1) ™ can be repair a flat roof with standing water!
Learn about the Final Flat Roof (FFR-K1) ™ Difference!
Learn why Final Flat Roof (FFR-K1) ™ is for your building!
Brochures
More Videos
Emergency Flat Roof Repair
FFR-K1 Installed on a WET ROOF!
Latest Project
The Historic Gwynne Building, Cincinnati, OH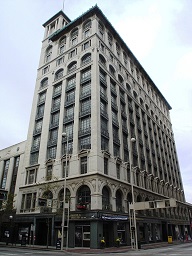 Final Flat Roof sealed multiple roofs on this historic building, eliminating all leaks!
Testimonials
""My business is under a 13,000 square foot modified flat roof. I have struggled with leaks in my roof almost every year. Apex installed a product (FFR-K1), that sealed the area immediatly. After six months it still looks perfect, and the roof is not leaking. I am not going to waste my money on temporary tar patches which always start leaking. The staff at Apex delivered a solution, (FFR-K1), to my long-term leaking problem and I plan to use them when the other areas of my roof begin to leak.""